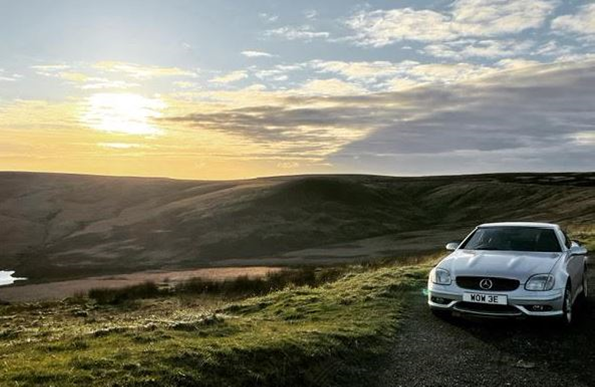 I still can't believe that my car was the first car of the month, so have written a fair bit. Owing my AMG32 is more about scratching a 20 year old itch and having a decent car for a road trip around Scotland than anything else. I'll explain. Originally registered HW51 SLK, I acquired Ola (will explain later) in August '20 and immediately put my own plate (WOW3E) on her. The road trip around Scotland was in September with a few friends to make up for missing Le Mans classic in July and Good Revival in September. I hadn't intended to buy an SLK, after having a very poor experience with a SLK 320 in May which was returned to the dealer with so many faults. I actually came close to buying her in February '20 just before lockdown when Ian Hodgson-Walker (a member of this group) first put her up for sale, but the desire for SLK32 goes back much further.

In April 2000 I treated myself to my first new car, an SLK R170 230 Kompressor in Lazulite Blue with a cream and beige interior. It was manual as I believed that only 'old people' like my parents drove automatics – how times have changed!. At the time I was chuffed to bits, until I saw a silver SLK32 a year or so later with a black and red interior that my head was turned. Unfortunately, there was no way I could afford one and moved onto a poor friendship with a BMW 325i before moving through 15 Mercedes from various CLKS, through to an SL and then a couple of E Class estates, one of which is my daily workhorse today.

When Ian first advertised her, we spoke and I came close to viewing her but decided to pursue a 320 V6 not realising the problems I would have or how amazing a SLK32 is. WOW3E is an exceptional car which I can claim little credit for other than taking a fortunate picture which resulted in me writing this, all credit has to go to Ian Hodgson-Walker who bought her in October 2010, christening her Ola at the time. The deal maker for me was Ian's car was silver with a black and red interior – exactly the same as the car back in 2001 that turned my head – for all I know it could be the same car, but who knows.

She has had every expense spent on her, including a full respray, full service history, full ceramic coating, gummi-pledged everywhere and was fully undersealed which means that there is no rust on her – how unusual is that? Ian even dried her with a leaf blower rather than ever using a towel or chamois on her. A tradition which I have maintained.
Originally registered in December 2001, Ola has had 5 former keepers before me, including Ian and have been cared for by all of them. I have been fortunate to own a few Porsches in the past, but having learnt how to really make the most of her supercharged V6 concluded at the end of our Scottish road trip (1500 miles) than she is a far more capable car with my old 911, 996 C4S which whilst was an amazing car doesn't have the same understated performance or handling as Orla.

Roof down the deep sound of the AMG exhaust and the wine of the supercharger, which takes you by surprise if you don't expect, is like nothing else. Whilst I use my E Class for over 25,000 miles a year, on an Autumn evening or an early winter's day Ora is second to none. A supercar without anyone knowing what she is. She certainly isn't a R170 230 Kompressor which introduced me to the Mercedes brand, she is a genuine supercar and would recommend one to anyone. The chassis along with the engine was developed to compete with the Porsche Boxster S and BMW Z4M and is a genuine all-rounder. The automatic gearbox is perfectly matted to the engine with the option of a sideway flick kickdown when you need a bit more power for an overtake. Handling wise and with the option of the roof down, means that there is nothing to beat it. I wonder why only 263 were brought into the UK from the circa 4000 manufactured and I can only think the price along with some unfair press reviews at the time when comparing it against the Boxster S and Z4M along with Mercedes' 'old man' imagine of the early 000's meant that few took the plunge. To be honest their loss is my gain. Depreciation is never kind to original owners but having hit the bottom of the curve I think it's a sound investment and now you measure it my smiles per mile.

I love nothing more than a drive out over the Yorkshire hills to really see what she has to offer. You have to be very careful on a wet road, but you hardly ever need to push it as the power delivery is very smooth and the chassis perfectly mated to the engine. The picture which I shared for the car of the month was taken on her last drive out before the salt arrived in Yorkshire. Taken on the edge of Marsden Moor, the light was perfect but never realised what a great picture it was until I got home. In addition to the pictures from Marsden Moor between Halifax, where I live, and Huddersfield, thought I would take the opportunity to share pictures from the Scottish Road trip. We touch on parts of the NC500 but after pouring over Google Maps for hours, managed to plot some amazing routes which few use or seem to know about. I would be happy to share these on WhatsApp if anyone would like the details. We used either Arrochar or Fort William as a base for the various routes and found some amazingly quiet roads; perfect to stretch Ora's legs.

She's now carefully stored in a Carcoon until mid-March, ready for when the salt has washed off the Yorkshire roads and then she will be out again. I can't wait! Another road trip planned with friends is planned for Scotland again in June and then back up again in September. The rest of the time she will be out for evening and weekend drives – now I am 50 certainly loving the automatic gearbox, would never go back to a manual, as they say we all turn into our parents eventually.

Finally, thank you to Ian for his car and attention in his 10 years of ownership, Ora is a testament to him and her 4 other owners. I will be caring for her until the time comes for her to move onto a new home. Also thank you for this club. I have been in many over the years and our club just shows that there are decent people with shared interests on Facebook – long may it continue.


You can edit all of this text and replace it with anything you have to say in your news/topic article. You can also change the title listed above and add new articles as well. Edit your Articles from the Pages tab by clicking the edit button.