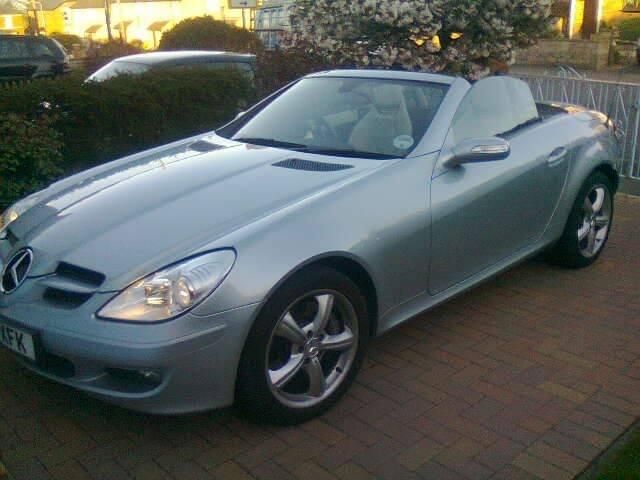 Firstly, I am honoured and delighted to have won August COTM. There are so many superb examples of SLK's on our Facebook group, so I was overjoyed and delighted to learn that other SLK owners had nominated my car. Thank you to everyone who voted, and for all the help and advice that has been provided since joining the group.

It's fantastic that modern technology enables us to share our appreciation of this wonderful piece of engineering across the globe, and my thanks go out to the admin team who do such a great job in maintaining and managing the group, and provide the platform where likeminded owners can share pictures, ask for advice, or comment on the postings of others. The Facebook group is a wonderful resource during normal times, but especially so during the pandemic where our lives have changed dramatically and often been constrained, however the ability to continue communicating with fellow owners via this medium during such difficult times has been incredibly important for maintaining our wellbeing. Thank you Admin team, and for everyone involved with the group……. I understand that there is now a national shortage of custard!!

I have never been a major advocate of modifications especially to such a premium brand vehicle, but the group has shown me that it is possible to enhance the vehicle without detracting too far from the original brand. As with any modification or enhancement, it is personal preference and choice……. some modifications we may have a great desire to replicate on our own vehicle, others less so.

I was introduced to the world of SLK's about 10 years ago following the acknowledgment that my sunshine yellow MG Midget was becoming unsafe and beyond economical repair. I was fortunate to find a R171 350, which as you can imagine was quite a step change from my Midget. As owners of the 350 will no doubt be able to resonate with, the feeling of driving such an extremely high-powered and great looking car, means that short cuts simply no longer exist.
I was fortunate enough that this was a second vehicle, however it was always my drive of choice, so when it was time to change, I wanted to find the same engine variant but in a R172 model. I searched for ages before a dealership persuaded me to just try a 250CDi……. and hence the deal was done. No, it didn't quite sound the same as the 350, but it was plenty quick enough, and fuel economy was a delight. I had been very sceptical about a diesel sportscar, but once on the road, it was almost impossible to tell the difference. I have had the car about 6 years now and have no desire to change it, as it provides everything that I need, apart from somewhere for my dogs.

So, my SLK was purchased from a dealership as the factory supplied model and stayed that way for many years. However, since joining the group I have seen so many great examples of vehicles that have been modified, and I will openly admit that most of the changes that I have made to my car have been born out of postings on the Facebook page. The main modifications that I have made are, boot spoiler, painted brake callipers and refurbished diamond cut wheels, remapped to 255bhp (~35% increase), installed a pilot navigation system, re-dyed the seats, quad exhaust system and rear diffuser fitted, Smart roof module installed, as well as many other minor changes

I'm always on the search for additional modifications, and seeing what changes others are making to their vehicles, but I do think that the trick is to know when to stop so as to retain the original SLK brand look and feel.
Once again, many thanks for voting for my car and for all the advice / guidance that has been provided via the group.
Stay safe and keep enjoying your wonderful vehicles.

Best wishes
Paul Etheridge