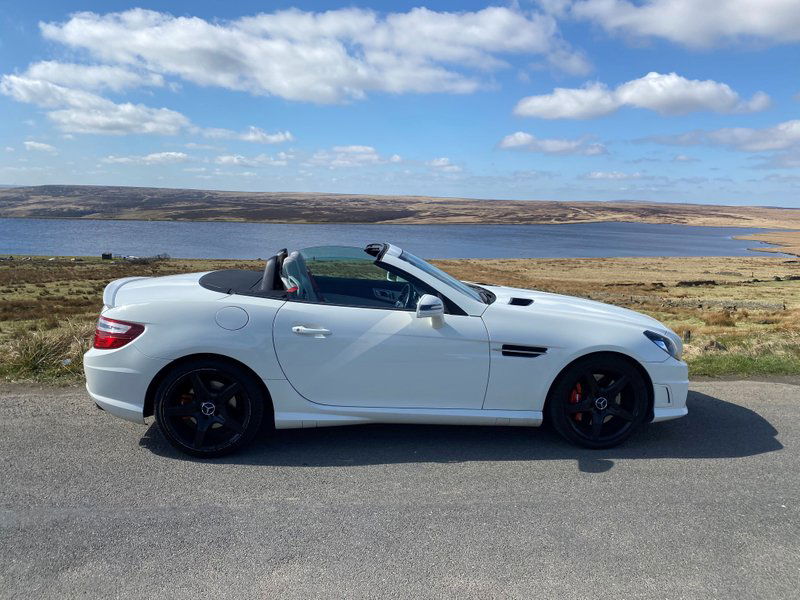 Wow, can I first say how surprised I was to get the "win", thank you all very much, that should put at least 20bhp onto the total power bragging rights :)
Anyhoo, back to the car………

Last September (2020) I came across a 2006 R171 SLK 350 with ballistic mileage (170,000miles) and in need of some tlc. At the time I had a hybrid plug in car that was, frankly boring. I got the SLK for a song, replaced one of the front wings and had wing, bonnet and pretty much the entire nearside resprayed. I added in android head unit, reverse camera and sensors and a major service including auto box and then just drove it. I absolutely loved the car and had no intensions of getting rid of it.

Now move forward to February when I came across the below 2013 250cdi AMG Sport with 61,000m advertised locally……

Just out of curiosity I gave the guy a call and he invited me down for a look, as it was less than a mile away from home, I arranged to meet him, jumped in the 350 and off I went. The car looked immaculate but then the guy started to fill me in. He was a trader, he basically bought and flipped VAG cars but came across this one at an auction, it was an insurance write off, the engine had been water flooded and seized. He showed me the receipt from the auction of how much he paid for it. He then had it transported to a place in Nottingham that rebuilt the engine (I have the receipt for that too). They also replaced the crank and advised on replacement injectors although the car was running now. I took it for a spin and immediately fell in love with it even though it wasn't running 100% like it should, it's hard to say what was wrong with it but it just wasn't right.

When I got back from the test, I mentioned this to the trader who agreed with me and said he was planning to have the injectors checked out. I left it at that and went my merry way.A couple of days later I called the guy back and asked him about the injectors, he'd had them checked out by a local diesel specialist who advised him to have them refurbished, which he had done. At this point he said if I was interested, I could have the car for exactly what it stood him at, he just wanted to move it on and get back to his VAG cars. I told him I would think about it and let him know. The day after I went for another test drive and bought it on the spot for exactly what it stood him at, I have all the individual receipts including a 12 month warranty on the engine rebuild.

I put the 350 on eBay and sold it for what I originally paid for it so it cost me a wing, some paint and a few electronics to run around in it for 5 months, not too bad.In the just under 3 months, I've had the 250Ive done over 3,500 fun filled miles, all for pleasure as I've been on the scrap heap since August due to COVID. I was really impressed with the Android system in the 350 so opted to have an android CarPlay box fitted to the 250 but kept the original head unit as I liked the look. Add in reverse Camera and sensors, car maps and a bit of spit and polish and I'm as happy as a pig in……. As per advice from engine rebuilder I had a full service using Mobil 1 full synth after a few hundred miles. I've also had it stage 1 mapped which has smoothed out the engine whilst in E mode. In S mode it's a rocket ship. Unfortunately, after only 4 days of ownership I hit a deer whilst out on an essential custard run, that was an interesting call to Chris Knott insurance, luckily the car was taken in to a local place where a new bumper was fitted, they even touched up some stone chips whilst they had it in for paint and gave me a little pot of touch up paint too, great service.

Do I miss the 350s performance? No, not in the slightest, in Sport mode the 250 is pretty much on par, its less nimble in E than the 350 was in C but I can live with that. The 250 doesn't have heated seats or a scarf, I miss the seats but never thought much of the scarfs in the 350 anyway. Comfort wise it is so much better, I'm 6'1" and 20 stones and find long journeys very comfortable, if I had to criticise, I would ask why there is nowhere to rest your right foot when using cruise control but that's just being picky.

Here's a few more shots including the rear bumper off whilst we installed the reverse sensors and the damage caused by hitting Bambi.